TikTok – one of the latest rising stars in the social media platform sky. And especially interesting and great for us in the music business because music is a key element! Start getting active on TikTok now and take advantage of the fact that many musicians do not yet have TikTok in their minds for active comprehensive marketing strategies. Industry experts see TikTok as a social media platform, but they also see the statistics and analyses that register the influence that the app has outside its small cosmos: There is a connection to the expansion of the fanbase on other platforms as well as likes and increasing shares and streaming numbers. This analysis shows great potential for this video platform, so let's get started with TikTok Paid Promotion!
TikTok Paid Promotion is actually quite self-explaining. Since the app has so many users, it shouldn't come as a surprise that even big brands like Adidas, Nike, Apple Music, Google ,or even beverage manufacturers etc. use TikTok videos for their marketing strategy. A great strength is that advertising there – in contrast to other advertising media – is still relatively unobtrusive. There is a TikTok Ads platform, but it is still quite young. So, that was just preliminary skirmishes: the real questions are:
How Does TikTok Promotion work for Musicians?
Of course, you can make TikTok promo for your music yourself: You can search for the right influencers that can embody your music in the best possible way. You should leave yourself enough time here and look for people who really fit your music. Relevance and social reach are important! How you can contact the influencers, you can often find directly on their profiles or by a short internet research. 
If influencers send you their interest to market your music and therefore you as a brand in a video, you have to send them information. But afterward, their work starts – and you should stay out of it, because they know their field and their audience best. Finding the right influencers is of course easier or more difficult, depending on the genre and the requirements. It is possible, but rather unlikely, that an influencer will automatically become aware of your music and use it extensively because the market is already quite saturated.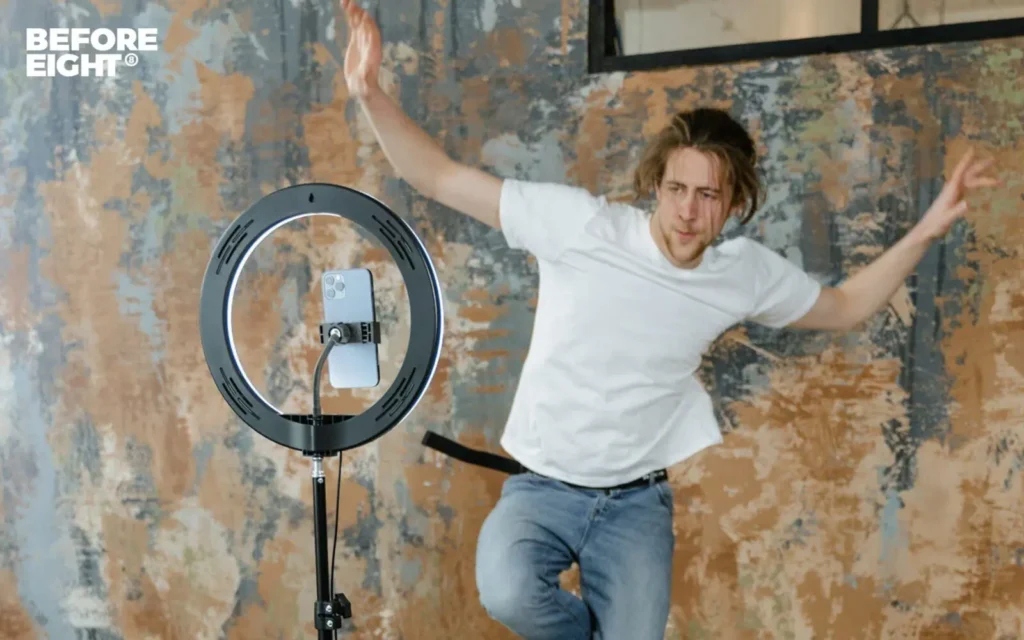 What is Paid Promotion on TikTok?
Influencers on TikTok are still cheaper than those on Instagram. However, as everywhere, there are people who think they are influencers, but actually, they are not really. Being able to judge exactly who fits and who markets the music to their audience in an optimal way can sometimes be difficult. One solution is to entrust a promotion service and marketing agency like BEFORE EIGHT with TikTok promotion. Promotion services such as BEFORE EIGHT are fully involved in the marketing campaign for you. We make sure that your music reaches the right influencers and the right audience. Of course, you have to pay a little bit for this, but it saves you time and nerves. 
The BEFORE EIGHT TikTok Promotion
Feel free to contact us and we will get in touch with you. It will be a matter of whether your song or songs fit our influencer network and how much you want to invest. We offer you packages in different sizes: Depending on the model, you want to generate more coverage and thus reach more fans and engagement. Because the range is super important! At BEFORE EIGHT we work to bring together the world of the classical music business with the world of influencers, social media platforms, and streaming and offer you effective PR campaigns. You have questions, comments, or want to book a promo with us? You can always send us messages and comments via our contact form. Normally, we will answer within 24 hours – because we work for your music!
Attention: Wherever there is money to be made, there are of course also scammers on the way, who promise you fake followers and the blue from heaven. At BEFORE EIGHT, we clearly distance ourselves from streaming fraud and actively take engagement against it. So, feel free to contact us if you notice any inconsistencies. We hope we can give you a little insight into the TikTok paid promotion. You can find more information about your TikTok appearance and TikTok promo on our blog. There's also more information about Spotify and Co. So: There you'll find all the important information for today's musicians!
See you soon!
Your BEFORE EIGHT Team.