First Steps in Spotify Playlist Pitching
Many newcomer artists upload their first song to digital distributors such as Recordjet or Igroove and are caught up by reality some time after the release of their track. It seems to be impossible for an aspiring artist to achieve a breakthrough on Spotify without any playlist support. Artists with utopian numbers of followers and streams in the millions cast their shadow on the entire music landscape. Here and now we explain how you can promote your track in the best possible way through Spotify playlist pitching and how to draw the spotlight on yourself and your music as an independent artist.
We at BEFORE EIGHT are mostly musicians ourselves, and I speak for myself and my colleagues when I say that we love albums. Whether digital, on CD, or on vinyl record. I still listen to albums in one piece and allow myself the odd drop or two. For me personally, it's still a special ritual to let the new music of my favorite artists take effect on me in a very relaxed way. But for your Spotify account, an album is a very bad idea, especially at the beginning of your career. Even if my LP heart is bleeding at this point, I'll explain why. Continuous activity is very relevant for your musical rise on Spotify. An album generates only one big peak, which almost completely disappears within a few weeks. 
Several singles in continuous succession help to ensure that you generate peaks again and again. You also have the chance to pitch your track to different Spotify playlists more often. Consequently, you have a higher chance that algorithm-based playlists will recognize you and recommend you to listeners. So, please do yourself a favor in the future and don't release albums but rather singles in short intervals. This does not necessarily increase the effort and you'll really benefit more from it.
The Algorithm - Your Friend and Helper
Once you have followed our initial advice, it becomes more likely that you get into algorithmic playlists on Spotify, such as "Discover Weekly" or "Your Mix of the Week". This is a great way to reach new fans, listeners or followers who might like your music on Spotify. However, please refrain from using dubious services which distribute so-called "fake streams". The algorithm of Spotify will notice if the streaming numbers do not match the "saves", the amount of monthly listeners or followers. In the worst case, individual songs may be blocked or you may be banned from Spotify completely. That would be a real pity with all the preliminary work a musician has to do.
Yeah, you read it right. To promote your music, you could create one or more playlists of your own. Make sure that the songs fit your music. Firstly, your fans will learn to understand you and your music better. If the playlists get bigger after a certain time, you can add your own songs and promote them.
The Editorial Playlists - Spotify's own Playlists
The dream of many newcomer artists is to get into one of the big playlists curated by Spotify itself. For example, there are "Mint", "Hot New Dance", or "Today's Top Hits"; but how do you manage that, especially as a newcomer? Many distributors offer help by providing a pitching service for an extra charge. But this is, often different than thought, no guarantee that your track will appear in one of these lists. It's more an attempt to place your song in one of these playlists. To cut a long story short, you can more or less save the money and pitch your new song on your own via Spotify for Artists. 
Now we will explain what you have to consider in detail. Try to submit your song 2-3 weeks before release. I know, a musician has a lot to do, but if you really want to be featured in the top editorial playlists, take 10 minutes to submit your song on your own. Try to describe your track as accurately as possible, so that the curators don't have more work to do in assessing and evaluating your song. Following this advice will increase the likelihood of your track being placed in Spotify's in-house editorial playlists. This, in turn, leads to increased streaming numbers, more monthly listeners and in the best case: followers.
DIY Spotify Playlist Pitching
Basically, you can send your music by yourself to almost any curator in the world to take care of your Playlist Placement. The only question here is whether your time is worth all the effort. First, you would have to find Spotify playlists where your tracks fit in. Then you would have to search for the curators' contact information. These two steps alone are very complex and time-consuming. But if you have made it this far, make sure you present your new music to the curators in the best possible way. Please do not write novels. 
A short and concise text that does justice to your track is always better than an essay of 10 pages. Hardly anyone would read it anyway because the curators simply don't have the time to do so. A different and more relaxed way of playlist pitching on Spotify is explained in the next section.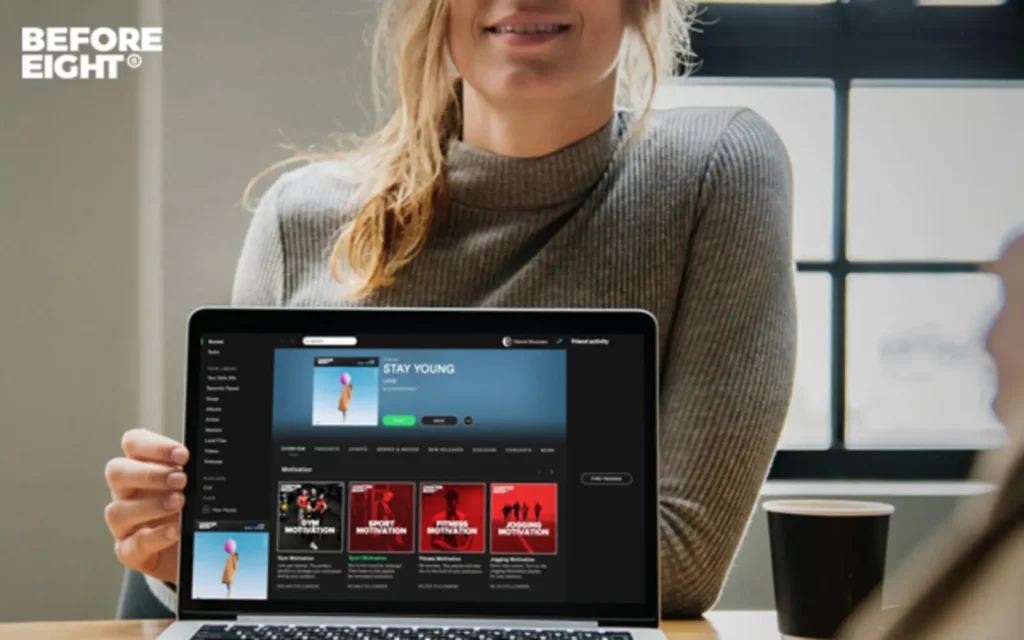 Should I invest in a Spotify Playlist Pitching Service?
If you search for "Spotify playlist pitching" on Google, you'll find numerous providers in this sector within seconds. Please ensure that the provider is serious. Too low prices or a web presence with low quality can be an indication that this site is just offering fake streams that will do you no good at all, except a more attractive streaming number on your song. We can explain to you how the playlist pitching service works at BEFORE EIGHT. 
At the beginning, you send your song to us, and we check the chances of success of cooperation. If your song meets our quality standards and fits into our network, we'll send you an individual offer. As soon as you're on board, we'll go every step together until the successful completion of your promotion campaign on Spotify. In detail, we'll pitch your song to the curators of our network we have built up over the years until your track successfully gains reach. The number of followers varies depending on the size of your promotion. If curators like your song, they'll place it in their playlists for around 4 weeks. Often, however, the songs remain in the lists for longer and up to seven weeks.
In summary, there are many ways to pitch your track on Spotify or other streaming services. You can contact your digital distributor to have your new song pitched to the editorial playlists on Spotify. Or take over yourself and find and contact curators or book a playlist pitching service on Spotify. It's important to weigh up the pros and cons of each option. 
If you have the time resources and a limited budget for your promotion, it's even recommended to pitch your music on your own. However, if you're already busy producing your tracks, we would recommend that you book a Spotify playlist pitching service. In all cases, a continuous output of songs will play right into your hands, as a higher activity level leads to a higher probability of being featured in the algorithm-based playlists.
We hope that this article has given you a small overview of your possibilities in the field of playlist pitching on Spotify. Especially for newcomer artists, it's important to understand how playlist promotion works and how you can use it efficiently. Don't be put off by the streaming and follower numbers of established artists. Rome wasn't built in a day, and a career as an artist certainly in only very few individual cases as well. If you have any questions about the topics of our blog entries, you're welcome to contact us at any time using the contact form. You'll usually receive an answer within 24 hours. Successful cooperation with artists from all over the world can be seen in our portfolio.
We are curious about you, your story and especially your music.
Your BEFORE EIGHT Team.