Three Ways to get a Spotify Playlist Placement
Editorial Playlists on Spotify
You have the possibility to get a Spotify Playlist Placement in one of the in-house editorial playlists such as "Rap Caviar", "Dance Party", "Young, Wild & Free" or "Today's Top Hits". Just register at Spotify for Artists and complete the questionnaire as accurately as possible to increase your chances of getting your release placed. Especially important is the timing of the submission. You should submit your track via Spotify for Artists two to three weeks before the release. With a little bit of luck, you'll end up in one of the most popular Spotify playlists of your genre almost by yourself.
There are many different possibilities to get a placement in an editorial playlist. In case you are unsure which way to go, we explain the most important differences and which options are the best to reach enduring success and a good placement.
DIY Spotify Playlist Placement
The headline already suggests it – you have the possibility to promote your music on Spotify. To do so, you have to choose all playlists that your song could fit into. Here you should pay attention to the genre, the mood and the appropriate language. Afterwards, it gets a little bit more difficult. It's about time that you find out the contacts of the curators in an elaborate and laborious detail work. Once you have gathered all the necessary contacts, start pitching your new songs into the curators' playlists. The curators often act from their gut feeling. Please make sure that your message doesn't become a novel. The curators receive many submissions every day and unfortunately don't have the time to read through endless marketing messages.
An example of a good, short, and concise email:
"Hey, I'm xxx and I'd like to send you my new track "Here without you" for a placement into your Spotify playlist. In my opinion, the song fits perfectly to the mood of the playlist "Deeply Sad" and focuses on an ending relationship as a theme. I'd be very happy about a placement in the playlist. Best wishes, xxx"
Spotify Playlist Placement Agencies
Inorganically working Playlist Pitching Service
If you search for Playlist Pitching Service on Google, you will notice that there are a lot of dubious and cheap services on the market. Concrete amounts of streams are offered, which fulfil all your wishes and dreams at first sight. But beware! We know that such an offer sounds very tempting, but we strongly advise you not to book such a service. Spotify's algorithms have learned a lot over the last years. It's possible that your song is removed or even your whole artist profile is blocked. Considering how much time, money, and energy you put into your music, we think it'd be a pity to end it. Therefore: Leave the fingers of bots, faked streams and all dubious offers on the internet.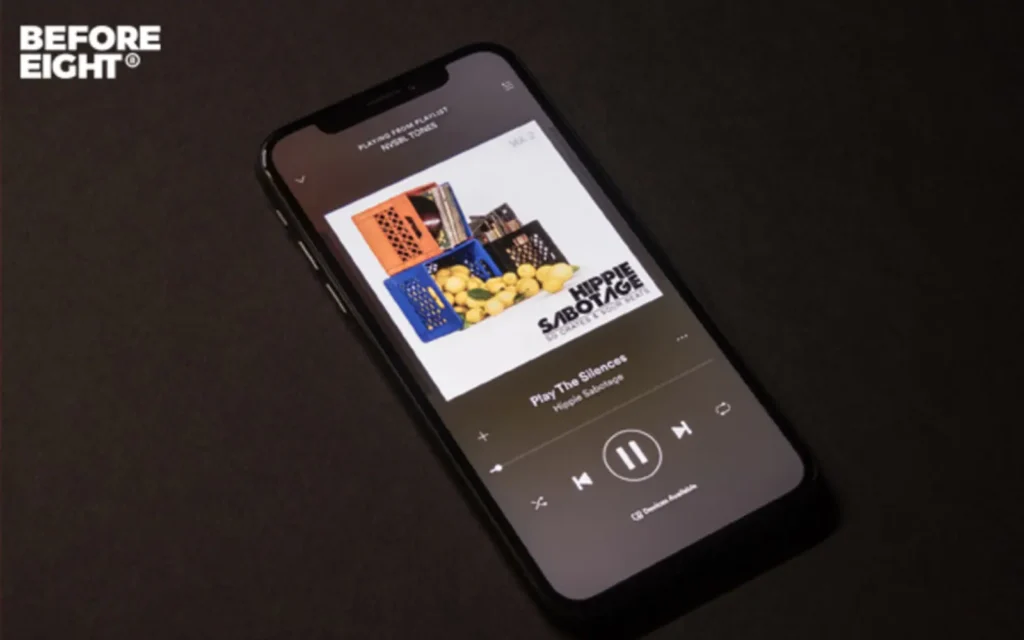 Organically working Playlist Pitching Service
We'll explain the work processes of a playlist pitching service based on organic reach using our approach at BEFORE EIGHT. First, you send us your song via the contact form on our homepage or via email. We listen to each individual song and evaluate it afterwards, especially regarding the chances of success of a possible collaboration. If your song is considered suitable, we'll send you an individual offer tailored to you and your music. On workdays, you can expect an answer within 24 hours. If you like our offer, we will send you an online form. By filling out the form, we will receive all the necessary data from you to create a promotion campaign. Basically, we always start the campaigns on Friday (adapted to the release day of Spotify and the German charts).
How does an organic Playlist Placement Agency work? 
Over the years, we've built one of the largest curator networks in Europe. We pitch your song into our network intensively and strive for a satisfactory reach for you. We cannot set up a certain number of streams or a placement in a specific playlist because we work with 100% organic pitching, nothing is faked. In all cases, you expand your audience and increase your plays. We have seen, that most of the curators leaves a song 4 weeks in their playlists. But sometimes, the owners of the lists decide to let the track stay in their playlist much longer. In numbers, seven to eight weeks are possible. In addition, you will receive a transparent reporting, probably 10 days after the end of your promotion campaign, to keep track of which playlists we have pitched you in.
Info: Many customers ask us how many streams are generated by the individual promotion campaigns. For this, we give a value derived from our experience and under the condition that a song goes down well with the listeners. In such a case, the track receives approximately 10% of the booked range of streams. That means translated: 1.000.000 reach = 100.000 streams, 500.000 reach = 50.000 streams, 200.000 reach = 20.000 streams etc. These numbers are only an estimated orientation, which cannot be guaranteed.
Promotion Outside the Streaming Services
Independent of playlist placements on Spotify or Apple Music, you could promote your music on various social media platforms such as Facebook, TikTok, Instagram or YouTube. This can be achieved through creativity and continuity in the design of your content on the one hand, and through the placement of target-group-specific advertising on the other. When placing Social Ads it is advantageous for you as an artist to analyze your target group in advance. Limit yourself to a small group that is more likely to accept your music than spending millions of dollars and reaching everyone from elementary school children to grandmothers. 
A good example of a suitable target group is the rap genre. Most of the time, this music is listened to by younger and mostly male consumers. Accordingly, as an artist, you could place your ads following these criteria. Furthermore, you can promote your music on your social media platforms through creativity and continuity in the design of your content. Please ensure that the content fits to your music and to you as an artist. For example, if you make deeply sad and melancholic music, funny cat videos are less suited to your image as an artist. It is important to draw an authentic and coherent picture of yourself and your music. Potential listeners should be able to understand you and your character in a comprehensible way.
We hope that we could give you a little insight into how you can place your songs in playlists on Spotify or other platforms. It is very important to us to inform especially newcomers about their promotion possibilities and to support them. If you liked the description of our playlist pitching service, you are welcome to send us your songs at any time via the contact form on our homepage. You will usually receive an answer within 24 hours. We listen to every artist and are constantly looking for undiscovered talents who are ready to take the next step in their career and are looking for a suitable music promotion partner. Our main focus is on the digital market and reach-oriented playlist promotion.

Should you have any further questions, please feel free to contact us at any time using the contact form. We, the Before Eight Team, always have an open ear for the concerns of our artists and bands. We are looking forward to hearing about your music in the future and welcoming you soon on board our promotion network.
Your BEFORE EIGHT Team!