Playlists are particularly important for Spotify Promotion. For Spotify users, they offer an ideal opportunity to listen to different tracks of the same mood or genre (e.g. party hits) or to discover new music without much effort within the Spotify services. For you as a musician, this offers the opportunity to tap into completely new listeners and organically generate reach. The streams of your song in the playlist increase, which is also reflected in your payouts. Plus: You may also gain new fans and followers who listen to your other music on Spotify. This way you have a snowball effect: to increase your monthly listeners and thus your streams, it pays to be placed in as many playlists as possible.  
Spotify Promotion with Different Types of Spotify Playlists
Through higher listener numbers, the so-called organic reach, your music also becomes interesting for other playlists. There are different ways to get your song featured in the different types of playlists:

Number 1: Spotify Editorial Playlists
Mint, New Music Friday or Today's Top Hits – The biggest Spotify playlists are maintained by Spotify itself, by so-called curators. They decide which songs fit into the playlists. The pitching of your music works similarly to radio stations, where music is suggested to the editors. For these playlists, you need a well-managed Spotify for Artists account and only previously unreleased songs can be pitched. The songs are e.g. also placed in the – for each Spotify user personalized – release radars in the week of your release.
Number 2: Algorithm-Based Spotify Playlists
You're probably familiar with such playlists: Discover Weekly or the before mentioned Release Radar. They are not curated by humans, but the algorithm decides which song is placed in which playlist. This algorithm knows all the steps a user has taken on Spotify, so it knows, for example, the preferred genre and which songs were listened to lately. The songs are then placed in the algorithm-based playlists tailored to each user. Both of these playlists are re-featured every week, which means that artists have a new chance to be shown to new followers and to get hundreds or thousands of new streams every week.
Number 3: Privately owned Playlists
In addition to Spotify playlists, there are user-generated playlists. These are often small, personal playlists, but labels, influencers, musicians or other people also create playlists with hundreds to several thousand followers. You can also pitch your music to these playlists. However, keep in mind that although there are many curators of private playlists, there are many more artists out there who all want to be heard. This also means that these curators get many songs pitched every day and can't feature all the songs in the playlist.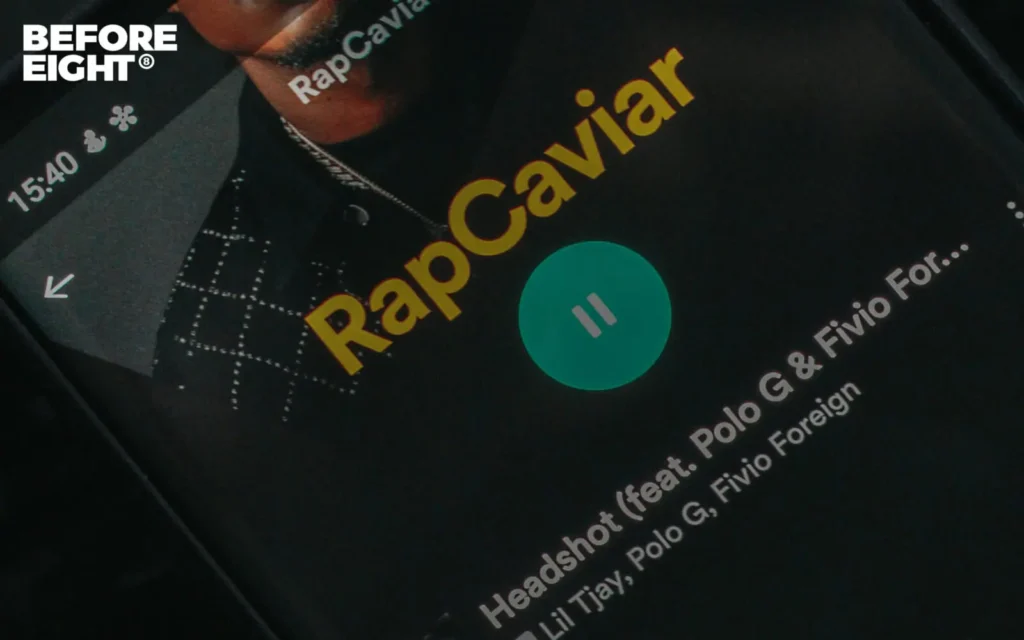 Check Out our Top Tips for Successful Spotify Promotion
Successful Spotify Promotion is not just about playlists, there's so much more you can do:
Keep your Spotify for artists profile up-to-date (latest music, links to social media…).
Start pitching early (for new music about 2 weeks before release).
Make a good plan of which playlists to pitch to or get support from professional Spotify promotion.
Attention: Payola – buying guaranteed streams, or even fake streams – is not welcome and doesn't do you a favor. So if you get professional help from a Spotify promotion service, check exactly how they work. You can also find out how to recognize top Spotify promotion companies in our blog post.
What does a Spotify Promotion Agency do?
At BEFORE EIGHT, we want you to be able to focus on your work as a musician. It's tedious to write to thousands of curators to get into the playlists. That's why we offer our pitching service. We want to grow your reach organically and open up a new audience for you! We use our contacts and distribution channels to the networks of Spotify playlist curators.
No matter how much or little experience you have, no matter if it's EDM, Schlager or even a mixed form – BEFORE EIGHT is here for everyone. If your music suits us and our network, we will propose it to the curators from our network. That doesn't automatically mean you'll end up on a specific playlist, because the curators themselves decide which music or artist they want to promote to their followers.
You want to enter the game? Then you are free to contact us via the contact form. Cheers!
Your BEFORE EIGHT Team.