Types of Spotify Playlists and Playlist Pitching Services
What exactly is a Spotify playlist pitching service? Explaining this, we need to circle back a bit more. All in all, there are three types of playlists on Spotify.
Spotify Playlists based on Algorithms
Spotify's algorithm monitors the listening and clicking behavior of its audience and suggests suitable content to the user. Quite similar to how YouTube works. The more activity and streams happen on your profile, the higher the probability that the algorithm recognizes you.
Spotify Editorial Playlists
Editorial playlists are curated by real people (Spotify employees). You can independently pitch your song to Spotify's in-house curators – but more on that in the next section. If you want to know how exactly you can pitch your song into editorial playlists, you can read our article about Spotify Playlist Pitching.
Spotify Playlists by Independent Curators
Playlists by independent curators, like the editorial lists, are administered and maintained by real people. However, they act independently of Spotify.
With a Spotify Editorial Playlist, you can pitch your song to the curators via Spotify for Artists. Regarding the playlists of independent curators, you can research the playlist curators yourself and contact them to pitch your song. Alternatively, you can book a Spotify Playlist Pitching Service. The promotion agency uses it's own network to put your track in the right spotlight. By booking a playlist pitching service and the associated plays, the algorithm-based playlists by Spotify might also get aware of your song. This way you can expand your audience even further.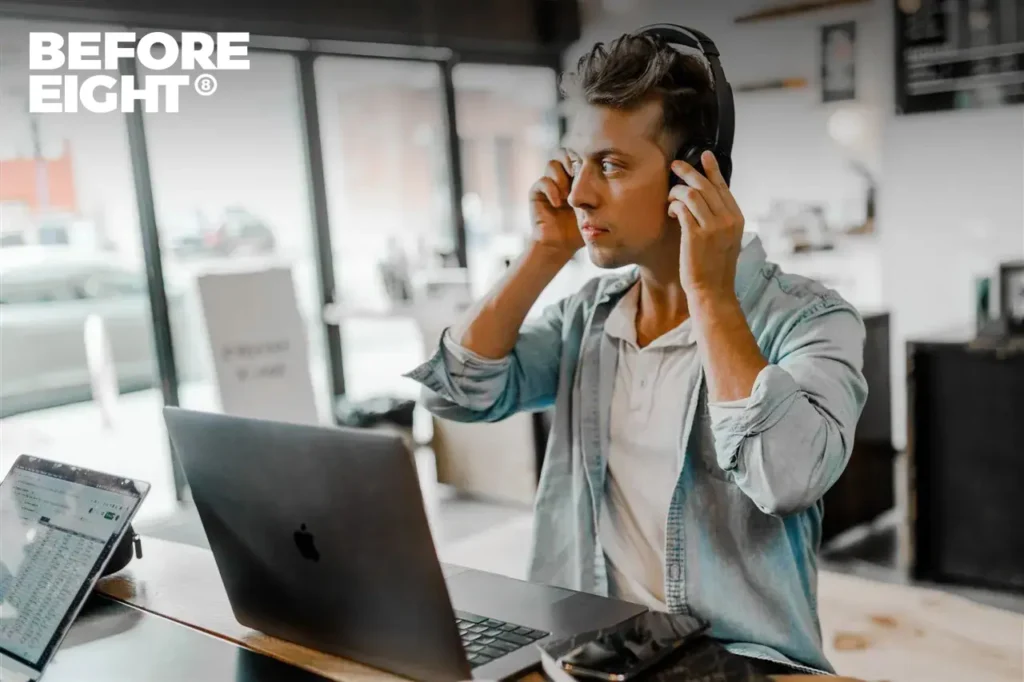 Our Tipps for the Production of your Song
Have you decided to submit your music to a Spotify Playlist Pitching Service to end up in playlists with a great following? Then you should consider the following before pitching your track: 
Produce High Quality Music:
In general, your song should be of high quality and sufficiently produced for the digital distribution of the streaming providers. We at Before Eight work very closely with the artists and bands in our network. That's why we know how much work, blood, sweat, tears and above all time and money are behind the scenes of music making. It would be a shame to see that the days of writing lyrics, brainstorming and working out the arrangement don't pay off. Just because an element, such as the mix or a poor quality cover artwork, messes up the overall impression of your song. Your track is your product and should usually be worked out and presented as ideal as possible.
Benefit from your Social Media and Artist Accounts: 
You should also regularly update your artist account with Spotify, iTunes & co. and your social media presence on all channels. Add an engaging and authentic artist biography to your Spotify account and provide your other channels with high quality content. The proximity to your audience and their active support helps to ensure that your music performs as successfully as possible. In our TikTok Blog, you can read everything about the power of social media in the music sector.
But enough for now. When building your social networks and producing your songs, you paid attention to everything you could think of. What's the next step in finding the right service for you?
How to Find the Best Spotify Promotion Agency
A quick Google search displays a large number of companies, that offer a Spotify or iTunes Playlist Pitching Service. For example, as a user of Igroove, for a small amount of money, you can use the additional in-house service 'Igroovenext', to be pitched and placed in Spotify Plalylists. 
Your song will then be pitched into the editorial playlists of the streaming providers. Almost all distributors offer this additional service. Go and have a look around the online presence of your distributor to find this additional service. 
If you are interested in a Spotify Playlist Pitching Service from independent curators, the following section is relevant for you and your music. We'll now explain to you, in detail, what a playlist pitching campaign with Before Eight looks like in detail.
Spotify Playlist Pitching Services at BEFORE EIGHT
The Quality-Check:
Over the past two years, we have been able to build up a large network of independent and private curators. The curators know that we pay great attention to the quality of the music we pitch. This makes them a little more "open" to our pitchings than with individual artists who independently pitch their songs to them. 
In detail, you send us your track, and we first check the marketability of your song in our network. However, it does not mean that your music is automatically classified as poor quality if we reject it. Often a song appeals to our in-house curators, but due to certain circumstances, we cannot guarantee the best possible promotion on Spotify. In the end, we not only check the quality of your song, but also the chances of success of your cooperation with us! If your song has passed our "quality control", we will contact you and make a personal offer for you. Afterward, we start to pitch your song to the curators of our network over the period of one week.
The right Placement:
We take great care to ensure that your music is only pitched into suitable Spotify playlists and thus achieves good results. After all, it doesn't help you if we place an EDM track in a US rap playlist or vice versa! With us, the growth of your audience is achieved through a very targeted Spotify promotion. Each new follower generated through the pitching campaign therefore has a real interest in the music genre you produce by independently following the playlist into which we pitch you.
Organic Promotion:
We work organically, so we can not promise that your song will be presented to a certain number of followers, but we do our best to put your song in a suitable spotlight to expand your audience. In our article about Organic Spotify Promotion, you can read, why an organic promotion is always better on the long run. Your track will perform depending on how well it's received by the audience listening to the track. All in all, we can only influence the consumption behaviour of the audience in certain areas, since all our work takes place under the premise of an organic promotion. We do not use bots or other tricks, but trust our taste and the quality of the songs delivered to us. We always want the best possible results for you, your career and our reputation. If you like our service, please send us your song today.
Our Mission at BEFORE EIGHT
With this blog, we have made it our task to give newcomers or well-known artists with little experience about digital streaming providers and sales channels an insight into the structures of a Spotify Playlist Promotion Service. We hope that you have a better understanding of the subject now. Being almost at the end of this article, we hope you like our described procedure and working method. We would be very happy to get your song in our mailbox via our contact form.
Together with you, we want to take your music to the next level in an organic manner and put it in the spotlight it deserves. Who knows, maybe the next undiscovered hit is already on your hard drive, or you're working on it. We give every song the opportunity to be heard and promoted. At Services, you can view some of our references from the past and read feedback from artists, managers and label people we worked with. In addition, our site also explains in small and easy steps, how we work in detail. 
The final result of our Spotify Playlist Pitching Service
On this note, we would like to highlight our Spotify Promotion Reporting, which you will receive automatically after every successful promotion campaign. It is important to us, that we provide proof of our work and how the promotional process of your song went. We find it essential, that the artist, regardless whether he or she is newcomer or already well-known artist, can see exactly what we have done for him/her. We work not only for the artist, but also with the artist to generate a organic growth of his/her audience as well as an optimization of the promotion structures.
If you have any further questions, please feel free to contact us at any time using the contact form. We from the Before Eight always have an open ear for the concerns of our artists and bands. We look forward to hearing from you in the future and hope to welcoming you on our promotional network soon.
Your BEFORE EIGHT Team!