Your first Steps in Spotify Music Promotion
As a newcomer who publishes the first or second track with a digital distributor such as Recordjet or Igroove, understanding streaming platforms is extremely difficult. In this article, we explain you step by step, what you should pay attention to when doing Spotify Music Promotion.
Maintain your Social Media Channels!
After all, it's like on a first date. Your first impression counts! If you go one step further, you could compare your social media channels with your Tinder account. Imagine your potential listener accidentally clicks on your Instagram page and finds unattractive content. Your music could please the user, but an unprofessional appearance decreases the chance that this fan visits your Spotify account. Therefore, we want to make sure, that the listener "falls in love" with your appearance. Maintain all your social media channels with high-quality, exciting and, above all, suitable content. If you need support for your Social Media Appearance, our Social Media Service could be interesting for you. You could also take a look on our Social Media Blog and learn how to improve your appearance on your own.
Especially on your Spotify profile, shouldn't be neglected. Upload high-resolution and appealing images on your profile. Pay attention to the quality of your cover right after the first release because changing the cover afterward is not that easy! A meaningful artist biography should not be missing to convince the editors of music magazines, curators, and listeners of you. Last but not least, it would be advisable to verify your Spotify profile to make a more professional impression. You can complete the verification, which you can recognise by the blue tick on the artist pages, under the following link: https://artists.spotify.com/c/access/artist
Your Track is your Product!
Your track is your product! We know that artists often tend to rush as soon as they have the next song for Spotify and other streaming platforms in the pipeline. But do yourself a favour and take your time for your release! Only when all factors are optimal, the number of your plays and listeners can increase on the long run. Your music is your product! Deliver quality constantly to convince potential followers. True to the motto: good things take time.
Possible ways to Promote your Track on Spotify
Let's get straight to the point here. You can promote your music as a freelance artist in a variety of ways on Spotify. You just have to decide how. In the following section, we will show you how to increase your plays and listeners.
To make a long story short: clearly single! If you are at the beginning of your career, we recommend that you design your output to be as continuously as possible. With the release of individual singles, you always reach a peak and ensure activity on your profile. This also makes you more attractive to the algorithm from Spotify (and other streaming services). That's important as the algorithm puts you in playlists such as "Discover Weekly" or "Your Mix of the Week". If you release one single album, there would be a big bang, but the short bang evaporates much faster than the release of individual tracks.
Pitch your Songs into Spotify's In-House Editorial Playlists
Two to three weeks before the release of your track, you have the opportunity to independently pitch your song for a sampling at https://artists.spotify.com. We know that the life of a musician can be stressful that something is simply forgotten. But please try to stick to the two to three-week period of submitting a song to the Spotify editorial team before its release day. This way, the curators of Spotify have enough time to check your music and place you into a suitable playlist. 
When submitting your song, please also ensure that you choose the right genre and describe your song as precisely as possible. This makes the work of the curators a lot easier! Some digital distributors, such as Recordjet or Igroove, offer a pitching service as an additional function, which however, costs money. In this case, the distributor just does the manual submission for you. We at BEFORE EIGHT offer a Spotify Playlist Pitching Service for a realistic budget because we want to support everyone from newcomer to established artist.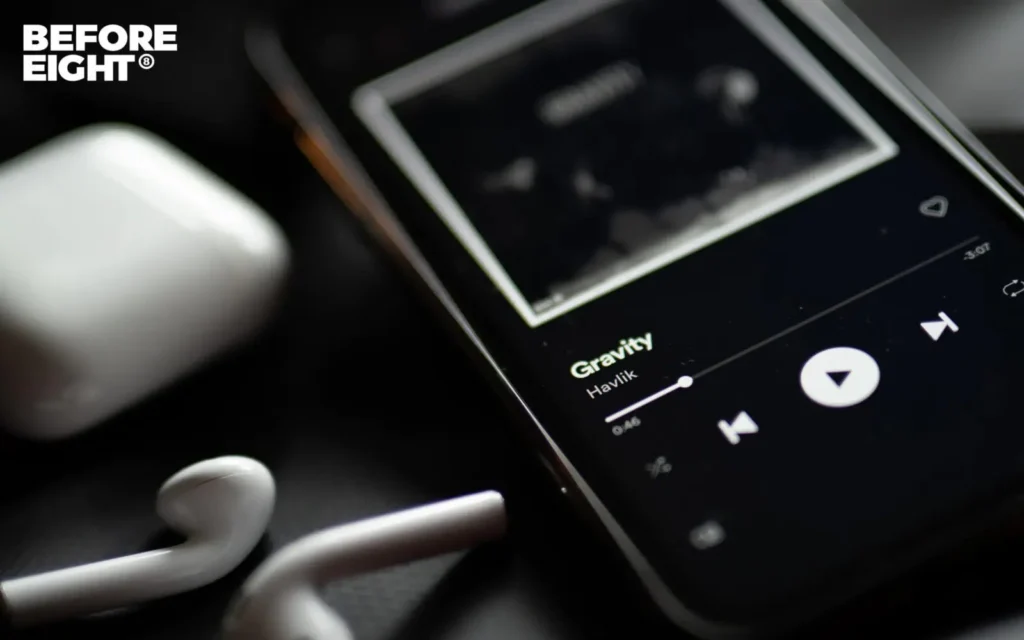 The Algorithm, your Future Friend and Helper
Algorithm here, algorithm there. Ever since the age of Facebook and Instagram, you have heard this term from every self-proclaimed IT expert and marketing experts. According to Wikipedia, an algorithm is a clear code of practice for solving a problem or a class of problems. Algorithms consist of a finite number of well-defined individual steps. If we're honest, we don't understand a word of it ourselves. But what we understand is, how the algorithm for streaming works with Spotify and its playlists. 
If you have ever encountered playlists with the titles "Discovery Weekly" or "Your Mix of the Week", you can probably imagine what it is about. Spotify analyzes countless data from listeners and then creates algorithmic playlists based on listening habits. So far so good, but how does your song end up in one of these lists? From our experience, this happens with output, output, and output again! As previously mentioned, you as a newcomer should first release individual songs to continuously generate activity. Posting on your other social media platforms, such as Instagram or TikTok, can also help to get more traffic on to Spotify. Ultimately, that means more traffic and a higher probability that you will be included in an algorithm-based playlist.
Spotify Music Promotion Services
There is a large number of platforms on Google, that offer a Spotify Music Promotion. Spotify doesn't like it, when playlist placements are offered for money. On the other hand, there is the option to book a playlist pitching service. This way, an external promotion company pitched your songs to the curators and editors for sampling in exchange of money. 
The promotion company does a lot more work than you think. You would first have to find suitable playlists for your music, find out the contact details of the curators and then send an email to them. This can often lead to failure, even though your song actually has a lot of potential. One reason could be that you weren't able to make a big name for yourself at the beginning of your career as an artist on Spotify. With a playlist pitching service behind you, the likelihood that your song will be featured in the playlists increases – But why is it like that? 
Let us give you a good example: We listen to each track, that is sent to us, and at the same time check the quality of the song and the chances of success in our network. We then consider only good and suitable music for our service and send it to the contacts of our playlists. The curators are fundamentally "well-disposed" to us, since we deliver a high percentage of suitable material for their playlists on Spotify. If you are interested in our service, you can submit your track here without obligation. We are always happy to hear from you and your music! Before you book a promotion service, always ensure it works organically. In this blog entry about organic promotions you can read why…
Outside the Spotify universe, there is an opportunity to promote your tracks on other social media channels. You could draw attention to your songs with your own creative and original content, for example by creating videos for TikTok or memes for Instagram. The content should always fit you and your brand. If you mainly make melancholic music and supply your profile with lots of funny memes or pictures of little cats, your public image can be inauthentic. 
Independent of an internal Spotify music promotion, you can distribute your music by placing target group-specific advertisements. This works well on YouTube, Facebook, or Instagram. And there is also the option of having your release shared by influencers to increase the reach of your publication. We at BEFORE EIGHT have recently started influencer marketing on TikTok. If you are interested in an low-priced and promising campaign, register here and tell us your ambitions.
Let's get started with Spotify Music Promotion together!
We hope that we were able to help you a little with our knowledge and brought some light into the dark for you. We know, from many of our acts and contacts, that they were overwhelmed with the Spotify Music promotion of their songs at the beginning. Promotion of your music for playlists can consist of different aspects that all relate to each other. We have summarized everything in this blog and tried to give you an overview of how you deal with your social media channels as well as your songs. We hope that you prefer to publish singles as albums to show a higher activity on your Spotify account and to promote your music in the best way possible. 
Our tips are certainly not a secret recipe for your upcoming success, but maybe we can contribute a small or large part to your artist career. If you have any questions, feel free to contact us using the contact form. Our staff will usually respond to you within 24 hours to provide you with the best service possible. We look forward to getting to know you, your music and your story. Until then, all the best and good luck marketing your singles or albums! We are excited!
Cheers, your BEFORE EIGHT Team.